YOUTH HIGH-PERFORMANCE
GROUP TRAINING
Why should youth train? To develop confidence, a positive body image, and a feeling of autonomy, knowing that they have full control over what they accomplish in life. A little confidence and swagger in life goes a long way! To prevent injuries. Age appropriate mobility, stability, coordination, sprinting, plyometrics, and strength training methods work to build a more durable athlete. You can't excel in your sport if you're hurt! Increased athleticism. Athletes who want to jump higher, sprint faster, cut harder and be unmovable need to train hard. Plain and simple. It does not stunt growth. There are no scientific studies showing injuries to growth plates when training in a structured environment with quality coaches.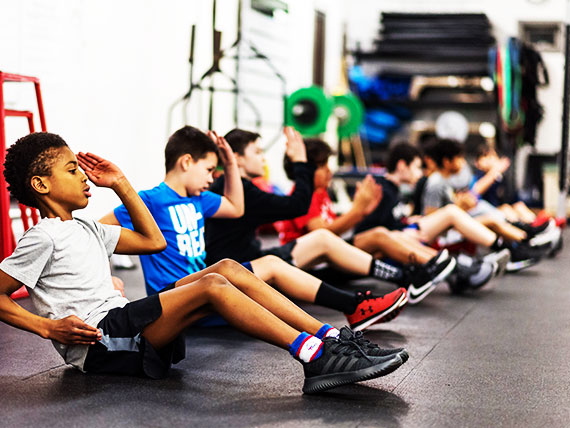 Join our group training sessions to help improve your game in a fun and competitive atmosphere!
View our available monthly membership, online programming & drop-in options below.
$249 / month
MONTH-TO-MONTH
5 Sessions per week
60 minute sessions. High coach-to-athlete ratio. Guaranteed results
No contract. Cancel anytime
Strength, power, plyometrics, build muscle
Gr.7-12; boys and girls
$40 / session
YOUTH HIGH PERFORMANCE DROP-IN INDOOR SESSION
60 minute sessions. High coach-to-athlete ratio. Guaranteed results.
Strength, power, plyometrics, build muscle
Gr. 7-12; Boys & girls
PRIVATE, SEMI-PRIVATE & CUSTOM SMALL GROUP COACHING
Sometimes you may require a little extra coaching attention when rehabilitating from an injury, or fine tuning your technique with various weight lifting, plyometric, and speed drills. Train by yourself, with 1-2 other friends, or in a small group of 4-6.
$100 / $65 / $50 ea. (per person)
SINGLE SESSION
Personalized coaching
One 60-minute session
Technique refinement
$95 / $60 / $45 ea. (per person)
8 SESSIONS
Personalized coaching
Eight 60-minute sessions
Keeps you on track
$90 / $55 / $40 ea. (per person)
12 SESSIONS
Personalized coaching
Twelve 60-minute sessions
Best value
TEAM TRAINING
Have an entire team that wants to get better? No problem! We provide mobile training services to school and club programs that are looking to add a high-quality strength and conditioning component to their programs. We have successfully integrated our training at the collegiate, high school, and minor league levels in sports including basketball, hockey, soccer, and lacrosse. Whether you're looking to get bigger and stronger in the off-season, taper and peak for the playoffs, or provide a well-rounded training camp experience, our team of experts will provide a free consultation and suggest the best training solutions given your team's unique needs and circumstances. Contact us for more details.